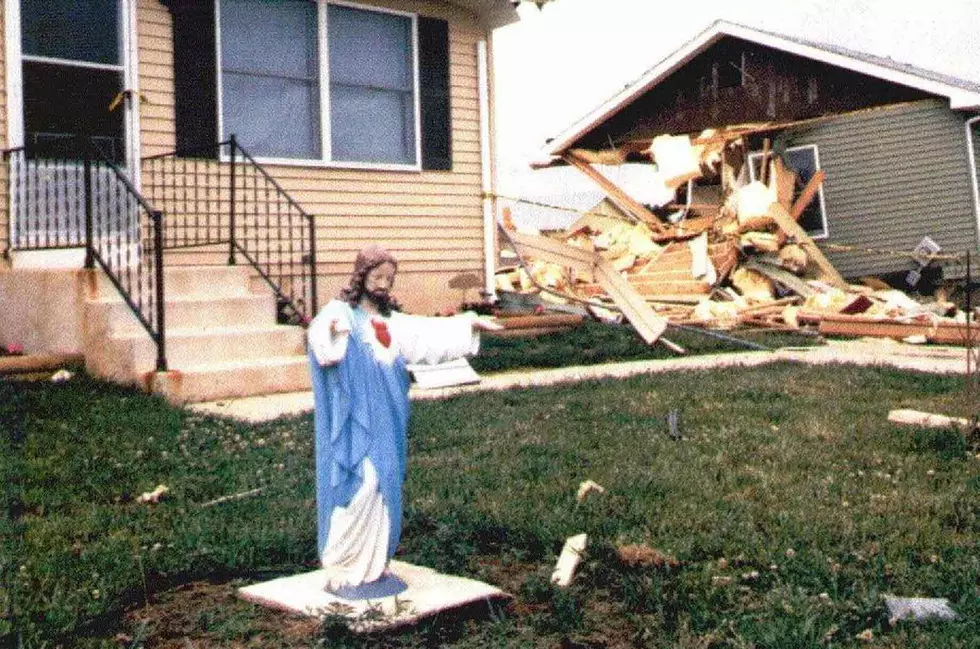 How 'Right Here, Right Now' Became Van Halen's First Live LP
Warner Bros.
Van Halen's 1987 video Live Without a Net was the first time most fans saw the new-look band, now with Sammy Hagar on vocals, in a concert setting.
Everyone looked like they were having fun and the crowd was into every howl, solo and between-song rap. The playing was raw and a little shambolic, with a few bum notes here and there, but it was a live performance: that's what you get.
Van Halen's first live album, Live: Right Here, Right Now, followed on Feb. 23, 1993, with a combination of the dense, heavy material from their most recent album, a smattering of old favorites and some choice covers. The band sounded tight and together – and it turns out, there's a reason why they were so tight.
Recorded in May 1992 over a two-night stand at the Selland Arena in Fresno, Calif., for a radio broadcast, Live: Right Here, Right Now catches Van Halen late in a long tour. These were shows 100 and 101 out of a 109-date run. Material from the previous year's For Unlawful Carnal Knowledge got a thorough workout.
Watch Van Halen Perform 'Top of the World'
"Poundcake" kicked off the record, with Eddie Van Halen's power-drill-over-pickups effect slicing through the crowd noise while the band piled it on. A breakneck "Judgement Day" followed, with Van Halen's fleet-fingered solo standing out from the dense riffing. (It's a feat he repeated elsewhere on "Spanked" and "Man on a Mission.") The hits from the new album — "Runaround," "Right Now" and "Top of the World" — were represented in fine, energetic and almost note-perfect form.
Older material was also injected with fresh energy. "Finish What Ya Started" was frisky and fun, and Van Halen's guitar tone was thicker and fuzzier than on the studio version. "Love Walks In" maintained all its majestic, power-ballad goodness, while the main riff of "Best of Both Worlds" sounded like an avalanche bringing down a mountain. Both songs were removed from the slick '80s production of 5150 and sounded better for it.
Meanwhile, Hagar added some muscle to David Lee Roth-era tracks like "Ain't Talkin' 'Bout Love," "Jump" and "Panama," though the best part of the three might be his rap to the crowd during "Panama" – part pop psychology, part salacious storytelling.
The covers on the album were pretty great too. The Kinks' "You Really Got Me" sounded as raw and powerful as ever, but it became the bread in a "Cabo Wabo" sandwich, as Van Halen cut the Kinks track in half and slipped a take on the OU812 favorite between the two parts.
Watch Van Halen Perform 'Jump'
Much more natural sounding was a hammering run-through of the Who's "Won't Get Fooled Again," with the song's signature synth riff played by Eddie Van Halen, using only his fingers and guitar strings. As in the original version, the song climaxed with Hagar nailing Roger Daltrey's scream perfectly — a goose bump-inducing culmination to one of rock's greatest songs.
The perfection of these and other moments on Live: Right Here, Right Now indicated that some tweaking to the performances was done in the studio during the album's production to maintain the essence of the performance without subjecting fans to missed notes, vocal clams and other imperfections that are part and parcel of a live show. In his 2011 memoir Red: My Uncensored Life in Rock, Hagar revealed how much post-performance tweaking was done – and it as a lot.
"The problem was [Eddie and Alex Van Halen] re-recorded almost the entire live album, because Eddie was out of tune, or Al had sped up or slowed down," Hagar wrote. "They fixed everything. Only now that Eddie was playing in tune, my singing's off-key. And where Al sped up in 'Runaround,' now I'm singing ahead of the beat. Now I had to go back in the studio and redo all my vocals.
"I wanted to kill those guys," Hagar added. "They put me in a room with the video of the concert, gave me my microphone and I stood there and sang the whole fucking concert one time through."
While the tightness and accuracy of Van Halen might have resulted from an abundance of studio chicanery, Live: Right Here, Right Now remains a fine sample of the sound that defined an era in hard rock.
Rock's 22 Nastiest Onstage Bandmate Blowups
Five Little-Known Van Halen 'Poundcake' Facts