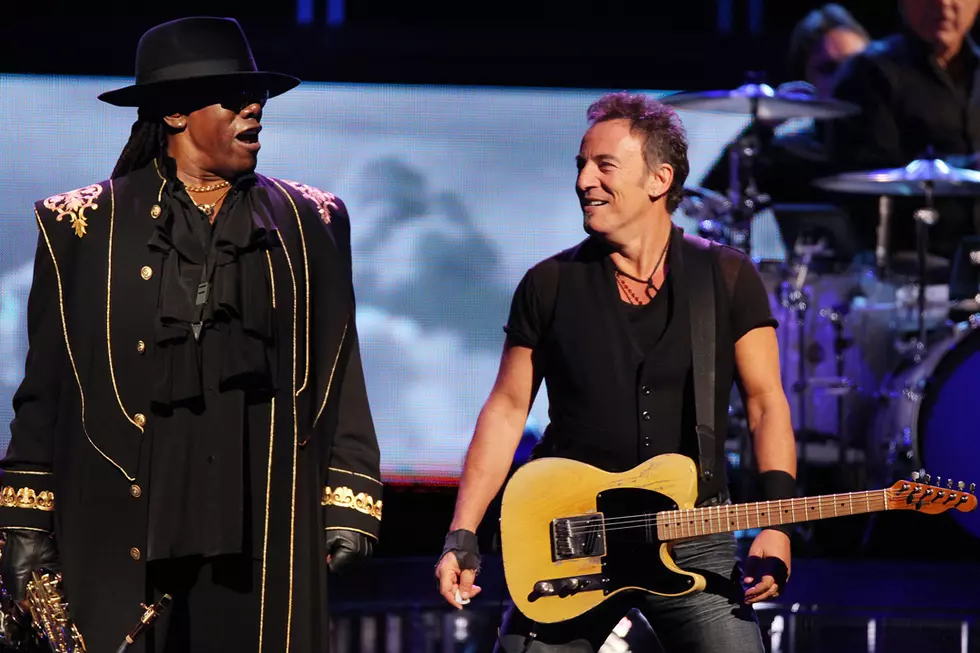 When Bruce Springsteen First Performed With Clarence Clemons
Vince Bucci, Getty Images
The 40-year friendship between Bruce Springsteen and E Street Band saxophonist Clarence Clemons became an essential part of the band's self-created mythology – the Boss and the Big Man. And it began at the Student Prince, a bar in Asbury Park, N.J., on a date believed to be Sept. 4, 1971.
At the time, Clemons was in Norman Seldin & the Joyful Noyze, whose lead singer, Karen Cassidy, was an ex-girlfriend of Springsteen's. They were finishing up a residency at the Wonder Bar when Springsteen, who had been hearing about Clemons from Cassidy, checked out the band. During a break, she introduced the two.
A few nights later, the Bruce Springsteen Band began a stint at the Student Prince a couple of blocks away from the Wonder Bar. During a break in the Joyful Noyze's set, Cassidy and Clemons walked over to see Springsteen, despite a Nor'easter. According to the legend, when Clemons opened the door to the club, the wind tore the door from its hinges and it blew north up Kingsley Street.
The band was also on a break, and they approached Bruce to ask if Clemons could sit in for a bit, to which Springsteen obliged. The personal and musical chemistry between the two was instant. "I will never, ever forget the feeling I got when we hit that first note," Clemons said in Peter Ames Carlin's Bruce. "It was so urgent, so real, so exciting to me. It was like I'd been searching for so long, and now, thank God, I am finally, finally, where I'm supposed to be."
Although Carlin, who spoke with Springsteen and Clemons about their meeting, puts their meeting as being in late-September, Brucebase says that Springsteen started playing at the Student Prince on Sept. 3, and the Joyful Noyze's time at the Wonder Bar ended two days later. So they believe that the first performance likely happened on Sept. 4.
Springsteen didn't immediately ask him to join the band. Despite the relative small size of the Jersey Shore music scene, their paths didn't cross again until June 17, 1972, when Springsteen sat in with the Joyful Noyze at the Shipbottom Lounge in Point Pleasant, and he showed up again at the same club three weeks later. Back in May, Springsteen successfully auditioned for Columbia Records, so it's possible that his main reason for reconnecting with Clemons was to try to get him to play on the debut album, whose sessions began shortly after that second night at the Shipbottom.
Clemons contributed to two of Greetings From Asbury Park, N.J.'s highlights, "Blinded by the Light" and "Spirit in the Night," but remained with Seldin. In October, as they prepared to go on tour, Springsteen asked Clemons to leave the Joyful Noyze and join his band full-time.
For the next 17 years, they were inseparable onstage. "Standing next to Clarence was like standing next to the baddest ass on the planet," Springsteen said in Clemons' eulogy. "You were proud, you were strong, you were excited and laughing with what might happen, with what together, you might be able to do. You felt like no matter what the day or the night brought, nothing was going to touch you. … We were united, we were strong, we were righteous, we were unmovable, we were funny, we were corny as hell and as serious as death itself. And we were coming to your town to shake you and to wake you up."
They provided a striking visual: a then-scrawny white boy and the 6'4" rock-solid African American, who had played semi-pro football and had a tryout scheduled with the Cleveland Browns before a 1968 car accident derailed his career. It was cemented on the cover of 1975's Born to Run, with Springsteen smiling as he leaned on Clemons' shoulder. The last verse of "Tenth Avenue Freeze-Out" created the myth of the effect Clemons' arrival had: "The change was made uptown and the Big Man joined the band / From the coastline to the city, all the little pretties raise their hands / I'm gonna sit back right easy and laugh / When Scooter and the Big Man bust the city in half."
"Together, we told an older, richer story about the possibilities of friendship that transcended those I'd written in my songs and in my music," Springsteen continued. "Clarence carried it in his heart. It was a story where the Scooter and the Big Man not only busted the city in half, but we kicked ass and remade the city, shaping it into the kind of place where our friendship would not be such an anomaly."
On Nov. 22, 2009. Bruce Springsteen closed out his Working on a Dream tour in Buffalo, N.Y., a show which saw him perform Greetings From Asbury Park, N.J. in its entirety. During "Growin' Up," Springsteen broke the song down and talked about that first night at the Student Prince. You can watch what he said below.
Almost prophetically, it turned out to be Clemons' last performance with the E Street Band. He died on June 17, 2011 after having suffered a stroke a week earlier. Since then, "Tenth Avenue Freeze-Out" has been performed at nearly every Springsteen concert, with images of Clemons being shown on the video screens.
Bruce Springsteen Albums Ranked
With this many albums, where does one begin? Check out the following list of Bruce Springsteen Albums, Ranked from Worst to Best.