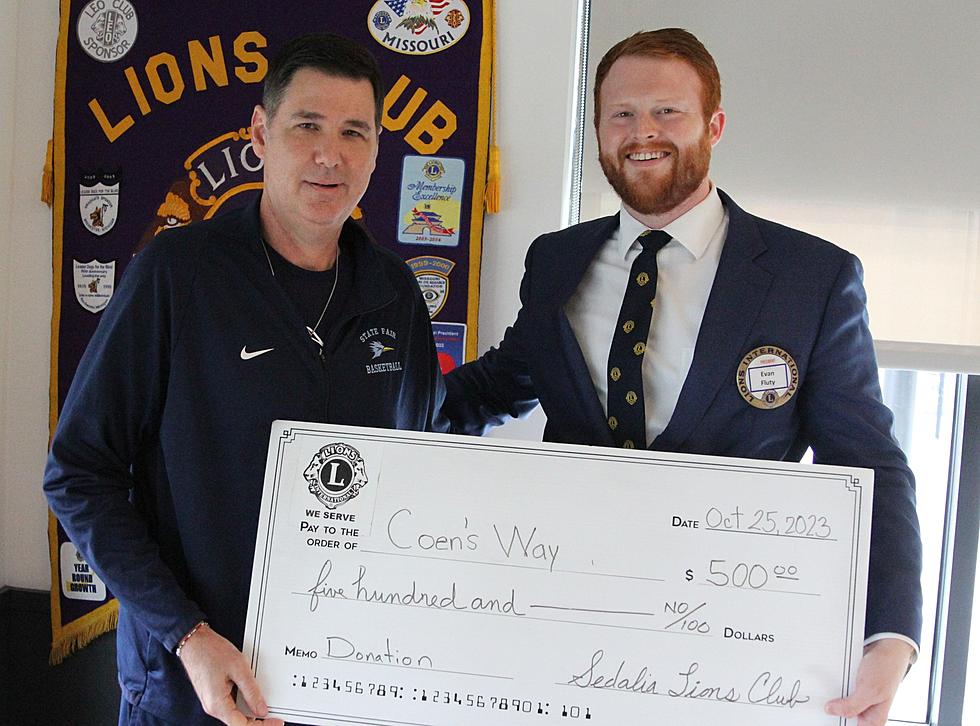 'Coen's Way' Receives Big Boost From Sedalia Lions Club
Kevin Lujin
Coen's Way, a new non-profit that aims to assist families with many of the challenges that come with a cancer diagnosis, received a big boost this past week with the Sedalia Lion's Club providing $500 to the organization at the Lion's Club meeting on Wednesday, Oct. 25.
Coen's Way namesake, Coen Brown, was a multi-year All-State basketball player and 2022 Sacred Heart High School graduate.  Brown, known affectionately as "CoCo," was diagnosed with  Desmoplastic small round cell tumors (DSRCT) cancer shortly before he was scheduled to start his post-high school life at 212 Sports Academy in Sarasota, Fla., on a full-ride athletic scholarship in the Summer of 2022.
Though only given weeks to live after his initial diagnosis, Brown battled for 10 months before passing away May 24, 2023.
His parents, Matt and Nikki Lyon Brown, hope to use the challenges their family faced and what they learned throughout Coen's treatment to help others.
"Coens Way, led by a Board that includes Bev Rollings and Chuck Marshall among others, is a heartfelt non-profit organization dedicated to providing support to families enduring the challenges of long-term cancer diagnoses," Nikki Lyon Brown said in a statement shared with the Sedalia Lions Club by Club Member and Coen's Way volunteer Kevin Lujin.
"Our mission is to adopt these families, not just in words but in profound, meaningful actions that make a genuine difference in their lives.  Through Coens Way, we aim to offer tangible assistance, whether it's through financial aid, emotional support, or practical help. Our hope is to lift the burdens from the shoulders of these brave families, allowing them to focus on their loved ones and the journey toward recovery," Brown said.
Sedalia Lions Club President Evan Fluty presented the $500 check to Coen's father and State Fair Community College Men's Basketball Head Coach Matt Brown at the Club's meeting on Wednesday.
" The Sedalia Lions Club is honored to support Coen's Way as their board starts this mission," Club President Evan Fluty said.
"There was tremendous community support for the Browns over this past year, and their organization has the opportunity to focus that community spirit to support other families with similar trials. We look forward to a continued partnership with Coen's Ways," Fluty concluded.
Coen's Way is planning a kick-off event sometime in the next few months to help promote and support those looking to assist the organization's mission, but will also look to bolster grass-root support in the meantime.  Nikki Lyon Brown is currently managing the organization's Facebook Group and will provide updates on the organization there.
Though she was unable to attend the Sedalia Lions Club meeting due to a scheduling conflict with another obligation at her children's school, Nikki Lyon Brown was effusive in her thanks to the Sedalia Lions Club for their support.
"I want to extend my heartfelt gratitude for your incredibly generous donation of $500 to Coen's Way," Brown said.  "Your support means the world to us, and it is a testament to the compassion and kindness of individuals like you."
Brown also spoke to the specifics of what this contribution would mean to others in the community.
"Your contribution will make a significant impact on our mission to help children like my son in their battle against cancer," Brown said.  "Your support gives us the means to provide vital resources and support to families facing this challenging journey."
Those interested in learning more about Coen Brown, Coen's Way, and the organization's efforts and upcoming events can follow their Facebook Group at https://www.facebook.com/groups/942397753515961
In the photos: State Fair Community College Men's Head Basketball Coach Matt Brown accepted a $500 check from Sedalia Lions Club President Evan Fluty on behalf of Coen's Way, a new non-profit named after Brown's son that is focused on helping families with a member who has received a cancer diagnosis.
Coen's Way is named after Coen Brown, a much beloved, multi-year All-State basketball player and 2022 Sacred Heart High School graduate.  Brown, seen here in action during the 2021-22 basketball season, was diagnosed with Desmoplastic small round cell tumors (DSRCT) cancer soon after his high school graduation.
--Submitted by Kevin Lujin