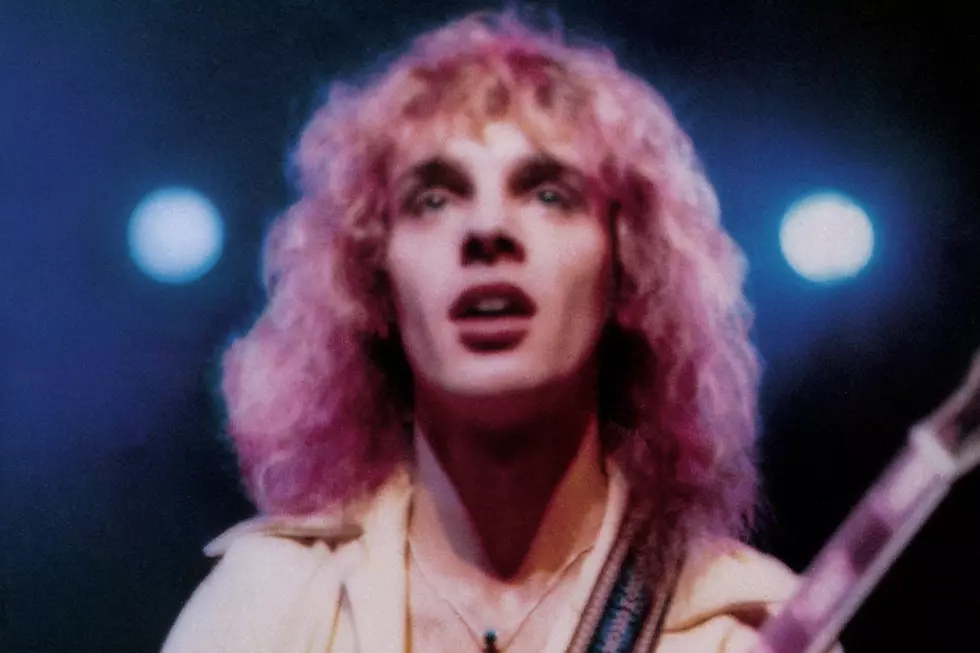 How Peter Frampton Finally Hit the Big Time With 'Frampton Comes Alive!'
A&M Records
The '70s were the era of the live album. Don't misunderstand: Live recordings predate the Me Decade and plenty have been released since, but the '70s were the live album's golden age.
The gauntlet was thrown down in May 1970 by a pair of future live classics released only a week apart. The Who's Live at Leeds and the triple-album Woodstock soundtrack brought the show into kids' bedrooms better than anything that had come before, and both were rewarded with stellar sales and critical praise. A format that was once reserved for contractual filler or stopgap releases was suddenly fashionable. Before the year ended, the Rolling Stones released Get Yer Ya-Ya's Out!; before the decade ended, we had live releases from Elvis Presley, the Beatles, Led Zeppelin, Ted Nugent and Aerosmith. It was a status symbol, an indicator of commercial clout: The bigger you were, the more likely your discography sported a live album.
In the middle of the decade, another pair of live albums changed the paradigm. Both featured artists whose recording careers were floundering but who did well on the road. Both were hail Mary passes -- one last chance to catch on with the record buying public. The first was the September 1975 release of Kiss Alive! Three months later (and also sporting an exclamation point), A&M Records released former Humble Pie guitarist Peter Frampton's concert masterpiece, Frampton Comes Alive!
Frampton was a prodigy who counted David Bowie among his childhood friends. By age 18, he'd already tasted success with the Herd and had formed Humble Pie with Steve Marriott. Together, they would record four studio albums before jumping on the '70s live LP bandwagon with Performance Rockin' the Fillmore at the end of 1971. It would be Humble Pie's most successful album, but the band's hotshot guitarist was gone before it came out.
At the tender age of 21, Frampton had two successful bands in his rear-view mirror and a limitless road ahead of him. His first solo album, 1972's Wind of Change, eschewed the muscular boogie of Humble Pie for a more acoustic, singer-songwriter vibe akin to James Taylor. Songs like the album's title cut introduced the new, mellow Frampton while "It's a Plain Shame" and a cover of the Stones' "Jumpin' Jump Flash" seemed tailored for his established fan base. In other words, the album was neither fish nor fowl, and sales were disappointing.
The following year's Frampton's Camel also had its mellow moments, most notably "Lines on My Face," but album closer "Do You Feel Like We Do" demonstrated a glimmer of things to come. Compared to the version that we all know and love, this take is a toothless, caged lion. There's ferocity lurking beneath the studio production, but it just can't break through. The album did better than Wind of Change but still didn't manage to break into the Top 100.
Listen to Peter Frampton Perform 'Show Me the Way'
For 1974's Somethin's Happening Frampton pulled out all the stops. He recorded at Headley Grange, home of no less than Led Zeppelin IV. He recruited Nicky Hopkins, the Rolling Stones' sideman, to play keyboards on a couple of tracks. He even had the legendary Hipgnosis team design the album cover. Although tracks like "Doobie Wah" and "I Wanna Go to the Sun" were solid enough, the album didn't fare any better than its predecessors.
Album No. 4, 1975's self-titled Frampton is when things started to gel. The acoustic Frampton and the electric rocker finally came together in the album's second track, "Show Me the Way." The song also featured the talk box, a guitar effect that he'd first encountered years earlier while doing session work for George Harrison's All Things Must Pass. The album's only other single was a soft rocker in the style of "Wind of Change," "Baby I Love Your Way." On the strength of its two singles, Frampton cracked the top 40, but not by much.
Now 25-years-old and with four albums under his belt, Frampton hit the road in support of his latest release. In 1975, though, "hitting the road" no longer meant simply playing clubs. Bert Sugarman's Midnight Special brought the '70s taste for live music to late-night television. In those pre-MTV days, The Midnight Special was the place to be seen, so Frampton brought his two new singles to the show along with a reworked version of "Do You Feel Like We Do," now featuring the talk box he used on his most recent studio album.
Those lucky enough to catch the show in that pre-VCR era saw and heard a side of Frampton that had been lost in the studio. Many tried to explain to their friends and siblings that they'd seen a guy make a guitar talk, trying to describe the magic behind "Show Me the Way."
Others had the good fortune to see it for themselves as Frampton crisscrossed the U.S. with his band: drummer John Siomos, bassist Stanley Sheldon and guitarist/keyboardist Bob Mayo. The tour literally stretched from coast to coast, with shows recorded in New York and San Francisco. "I remember it was one of the first nights we ever headlined in San Francisco, or anywhere else for that matter," he wrote on his website. "I wasn't worried about the [recording] truck being outside, I was worried that we had enough material to do an hour and a half act. It was a stretch at that point. We were used to doing 50 minutes."
He didn't need to worry. Released on Jan. 6, 1976, Frampton Comes Alive! contained 78 minutes' worth of material. The deluxe edition released in celebration of the the album's 25th anniversary restored three missing songs from the band's set, totaling an additional 13 minutes.
Listen to Peter Frampton Perform 'Do You Feel Like We Do?'
Due to the album's intro, most people assume that Frampton Comes Alive! was recorded in San Francisco. For the most part that is true, but a quick glance at the album's liner notes reveals that it is a composite of recordings from San Francisco's Winterland Ballroom, the Marin Civic Center in San Rafael, Calif., Island Music Center in Commack, N.Y. and State University of New York at Plattsburgh. That's just trivia, though. The important thing here is that the album captured the experience of being there better than even Live at Leeds or Woodstock.
There's a sense of space in the recording that's equal parts engineering and Frampton's phrasing. Songs from his four studio albums were allowed to breathe onstage, empty measures filled with ambient noise. Frampton's Camel's "Lines On My Face," for example, was transformed from a fairly generic '70s soft rock ballad into an emotional tour de force on Frampton Comes Alive!, the audience swirling around the lyric in a supportive embrace.
The Frampton album is well represented with four tracks, including the two singles: the almost Piedmont blues "Penny for Your Thoughts" and "I'll Give You Money," which qualifies as the album's heaviest track. Somethin's Happening's title cut and "Doobie Wah" both appear, the latter introduced by Frampton as "a little bit funky" and live even more evocative of its Doobie Brothers inspiration than in its studio version.
Debut album Wind of Change ties Frampton for most cuts with four: the title song, an uninspired cover of "Jumpin' Jack Flash," "It's a Plain Shame" and an acoustic reworking of "All I Wanna Be (Is by Your Side)" that picked up the tempo and stripped the song to its emotional core.
For most listeners, Frampton Comes Alive! comes down to the pair of talk box tracks, "Show Me the Way" and "Do You Feel Like We Do." Many hours were spent in 1976 with the needle dropped on side four, track two, staring at the gatefold cover photo of the skinny guitarist bathed in purple light, wondering how in the heck he made that black Les Paul say "I want to thank you." Even more hours were spent debating whether the word was "thank" or something more provocative.
To say the album was a phenomenon is an understatement. With 11 million copies sold, it held the record for bestselling live album of all-time for several years, and its success pushed live versions of "Show Me the Way" and "Baby I Love Your Way" back onto the charts. An edited version of "Do You Feel Like We Do" went Top 10, too, on the power of FM radio's willingness to play extended tracks. Even at half the length of the album version, the live take clocked in at more than seven minutes.
After more than a decade in the business, Frampton found himself an overnight success. Rather than hotshot guitarist or singer-songwriter, he was suddenly a teen idol with all of the over exposure that entails. The follow-up album, I'm In You, was a commercial hit but also marked the beginning of the backlash. In 1978 he starred in the film adaptation of Sgt. Pepper's Lonely Hearts Club Band, a critical disaster that essentially ended his teen idol phase.
Frampton never again achieved the commercial success of Frampton Comes Alive!, but that's hardly a criticism. For this moment in time, millions of fans felt just like he did.
Top 100 Live Albums
Rock's Top 100 Live Albums are more than just concert souvenirs or stage documents from that awesome show you saw last summer.