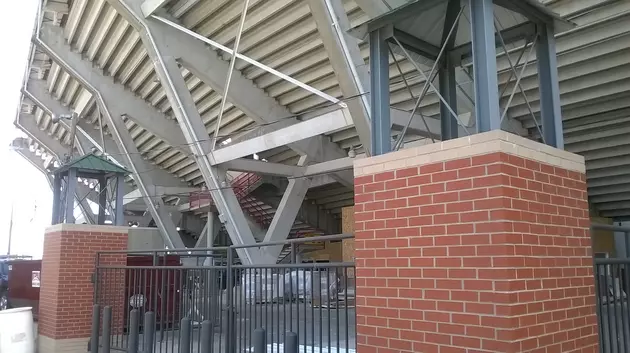 All of the Missouri State Fair Grandstand Acts From 1990 to 2016
Kurt Parsons
Here's something the Missouri State Fair sent to us that I thought was pretty cool. It's a list of all the grandstand acts at the fair going back as far as 1990! 
Looking over the list, it's particularly interesting for country music fans. It's almost a complete history of country music. Nearly every country music star has performed at the Missouri State Fair, including Garth Brooks, Kenny Chesney and Carrie Underwood. Some of them have appeared at the fair multiple times. Alabama's headlined the fair several times. So has George Strait, Alan Jackson, Brooks & Dunn and Reba McEntire.
How many of these shows do you remember?
The Judds / TG Sheppard
George Strait
Hank Williams Jr / Kentucky Headhunters
Reba McEntire
Clint Black / Kathy Mattea
Highway 101 / Southern Pacific
Air Supply / Three Dog Night
Ricky Van Shelton / Restless Heart
Tommy Page / Sweet Sensation / Linear
Garth Brooks / Patty Loveless
Randy Travis / Alan Jackson
The Beach Boys
Ricky Van Shelton
Carman / Willis Davis
REO Speedwagon / The Marshall Tucker Band
Nitty Gritty Dirt Band / Desert Rose / Andy Andrews Kentucky Headhunters / Travis Tritt
Huey Lewis & the News
George Strait / Doug Stone
Ralph Emery & The Hall of Fame Show
Travis Tritt / Tanya Tucker
Ricky Van Shelton / Diamond Rio
Hanna Barbera Show
Charlie Daniels Band
Larry Gatlin & Gatlin Brothers / Shelby Lynne
Color Me Badd
Sawyer Brown / Conway Twitty
Clint Black / Aaron Tippin
Hank Williams Jr / Gibson/Miller Band
George Strait
Rockin' Trolls Show w/ 'Rina the Ballarina, Arnie Trollsenegger & MC Trollman Vince Gill / Pam Tillis
Brooks & Dunn / Lee Roy Parnell
Michael Bolton
Mark Chesnutt / John Anderson
Cling Blace / Wynonna
Dwight Yoakam / Suzy Bogguss
Beach Boys / America
George Strait
Brooks & Dunn / Faith Hill
Kenny G
Aaron Tippin / Tracy Byrd
Lorrie Morgan / Clay Walker
The New Rascals / The Drifters / Bobby Vee / Lou Christie Alan Jackson
Travis Tritt / Lee Roy Parnell
George Strait
Brooks & Dunn / Wade Hayes
Bad Company / Ted Nugent
Little Texas / Lari White
Sawywer Brown / Toby Keith / David Ball
Alan Jackson
George Strait / Terri Clark
Lynyrd Skynyrd / Doobie Brothers
Tim McGraw / Faith Hill
Michael Bolton
Tanya Tucker / David Lee Murphy
Point of Grace / 4-Him
Gin Blossoms / Goo Goo Dolls
Alan Jackson
Vince Gill / Bryan White
Alabama / Kenny Chesney
Alan Jackson / LeAnn Rimes
Anointed / Clay Crosse
ZZ Top
Clay Walker / Terri Clark
Tim McGraw / Mindy McCready
John Michael Montgomery / Ricochet
LeAnn Rimes / Bryan White
Savage Garden / Billie Myers
Clay Walker
Sandi Patti
Alan Jackson / Deana Carter
REO Speedwagon / Kansas
Trace Adkins / Lee Ann Womack
Clint Black / Michael Peterson
Wynonna / Sawyer Brown
Alabama / David Ball
Goo Goo Dolls / Sugar Ray / Fastball
Brooks & Dunn / Trace Adkins
Reba McEntire / Dick Hardwick
George Jones / Marty Stuart
Sawyer Brown / Lila McCann
Tim McGraw / Chely Wright
Journey / Shooting Star
Jo Dee Messina / Mark Wills
REO Speedwagon / Styx
Brooks & Dunn / Andy Griggs
Savage Garden
Christina Aguilera
Kenny Rogers
Def Leppard
Travis Tritt / Charlie Daniels Band
Alabama
Bob Dylan
Billy Ray Cyrus / Aaron Tippin
Sawyer Brown / Tracy Byrd
George Thorogood & Fabulous Thunderbirds
Mya / LFO
Willie Nelson / Lydia Miller
Vince Neil / Slaughter / Ratt / Vixen
Oak Ridge Boys
REO Speedwagon / Styx
Toby Keith
Aaron Carter / No Secrets / Triple Image
Brad Paisley / Chris Cagle
Lee Greenwood / Bellamy Brothers
Kenny Chesney / Kellie Coffey
Ted Nugent / Grand Funk Railroad
Lonestar / Sara Evans
Sawyer Brown
Kenny Chesney
Crosby, Stills & Nash
Hank Williams Jr
Clay Walker / Sammy Kershaw
Montgomery Gentry / Trick Pony
Martina McBride
Goo Goo Dolls / Sugar Ray / Uncle Kracker
Charlie Daniels Band
ZZ Top / Frankie Perez
Montgomery Gentry / Gary Allan
Audio Adrenaline / Matthew West
Toby Keith / Terri Clark
Switchfoot / Earshot
Brooks & Dunn / Gretchen Wilson
Nickelback / Puddle of Mudd
Brad Paisley / Sara Evans
Lynyrd Skynyrd / Cross Canadian Ragweed
Hoobastank
The Fabulous Thunderbirds
The Temptations / The Four Tops
Crossfade / Seether
Keith Urban / Shelly Fairchild
Rascal Flatts / Blake Shelton
James Taylor
Carrie Underwood / Trent Tomlinson
Big & Rich / Cowboy Troy
Sawyer Brown
Lynyrd Skynyrd / Kentucky Headhunters
Trace Adkins / Chris Cagle
George Jones / Pam Tillis
Raven-Symone / Lil' J
Smash Mouth / Fastball
Corbin Bleu / Drake Bell / Jordan Pruitt
Gary Allan / Eric Church
Dierks Bentley / Chris Cagle
Big & Rich / Cowboy Troy
American Idol
Jason Aldean
Counting Crows
Alice Cooper / Blue Oyster Cult
Switchfoot / Cartel
Sara Evans / Trent Tomlinson
Air Supply
Charlie Daniels / .38 Special / Shooter Jennings
Josh Turner / Pat Green
Jason Aldean / Terri Clark
Foreigner / Fiction Plane
Leroy Van Dyke / Moe Bandy / Rex Allen Jr / Jim Ed Brown / Bobby Bare / TG Sheppard / Helen Cornelius / Charlie Rich Jr
Cross Canadian Ragweed / LoCash Cowboys
Heart / Tyler Bryant
Gary Allan / Chuck Wicks
Kansas
Little Big Town / Candy Coburn
Leroy Van Dyke / Moe Bandy / Steve & Rudy Gatlin / Narvel Felts / Helen Cornelius / David Frizzell / Jimmy Fortune / Gene Watson
Shinedown / Rev Theory
Brooks & Dunn / Jamey Johnson
Eli Young Band & Candy Coburn
Shinedown / Chevelle
Montgomery Gentry & The Lost Trailers
Katharine McPhee & Bomshel
Leroy Van Dyke / Moe Bandy / Steve & Rudy Gatlin / Narvel Felts / Helen Cornelius / David Frizzell / Jimmy Fortune / Gene Watson
Three Dog Night and The Grass Roots
Darius Rucker & The Band Perry
Sheryl Crow & Colbie Caillat
Jerrod Niemann/Candy Coburn
Lynryd Skynyd (cancelled due to health a week before the Fair) / Doobie Brothers performed by themselves
Jason Aldean/Chris Young/Thompson Square (sold out) Country Gold Tour - Leroy Van Dyke / Moe Bandy / Helen Cornelius/ T. Graham Brown / Jeannie Kendall / Eddy Raven / Joe Stampley / Jim Ed Brown Rhonda Vincent and The Rage / Dailey and Vincent / The Next Best Thing Kenny Wayne Shepherd / Trampled Under Foot
Luke Bryan / Josh Thompson
Carnival of Madness Tour - Theory of a Deadman / Alter Bridge / Adelitas Way / Emphatic
Randy Rogers Band and Wade Bowen
Justin Moore and Josh Thompson
Montgomery Gentry and 38 Special
Paul Revere and the Raiders and Gary Lewis and the Playboys Country Gold Tour - Leroy Van Dyke / Rex Allen, Jr / Leona Williams / The Quebe Sisters Band / Narvel Felts / Bobby Bare / Lynn Anderson Jake Owen and Colt Ford
Larry The Cable Guy and Reno Collier
Hank Williams Jr and George Thorogood and the Destroyers
Chris Cagle/Will Hoge
Foreigner/Starship Featuring Mickey Thomas
Gary Allan/Randy Houser
Chubby Checker
The Oak Ridge Boys 40th Anniversary Tour
Lee Brice/Tyler Farr
Toby Keith and Kelsey K
Three Days Grace/Hinder
Scotty McCreery/Kelsey K
Joan Jett and the Blackhearts/Black Stone Cherry
Sara Evans/Joe Nichols
Beatlemania Live
Florida Georgia Line/Colt Ford
An Evening with MercyMe
Jake Owen/Eli Young Band/The Cadillac Three
Halestorm/Sevendust
Happy Together Tour (The Turtles, The Association, Mark Lindsey, The Grass Roots, The Buckinghams, The Cowsills
Def Leppard with Styx and Tesla
Justin Moore/Easton Corbin
John Michael Montgomery/Belles & Whistles (cancelled due to rain) Gary Allan/The Swon Brothers
Casting Crowns/I Am They
Alabama/Michael Ray
The Fray/Andy Grammer
Three Doors Down / Shaman's Harvest
Brett Eldredge / Belles & Whistles
John Kay & Steppenwolf / Foghat / Molly Hatchet
Chris Janson / LOCASH
Jamey Johnson / John Anderson
Newsboys / Hawk Nelson
Randy Rogers Band / Jason Boland & The Stragglers / Stoney LaRue
Lady Antebellum / Kelsea Ballerini
Sawyer Brown and Royal Wade Kimes
Halestorm and Skylar Grey
Alan Jackson and Lee Ann Womack
Granger Smith feat. Earl Dibbles Jr. and Chris Lane
Southern Uprising Tour featuring The Charlie Daniels Band, The Marshall Tucker Band, Travis Tritt and The Outlaws (RAINED OUT)
For King and Country and Jordan Feliz
Red Dirt Country featuring Casey Donahew, Wade Bowen and Mo Pitney
Little Big Town and Seth Ennis