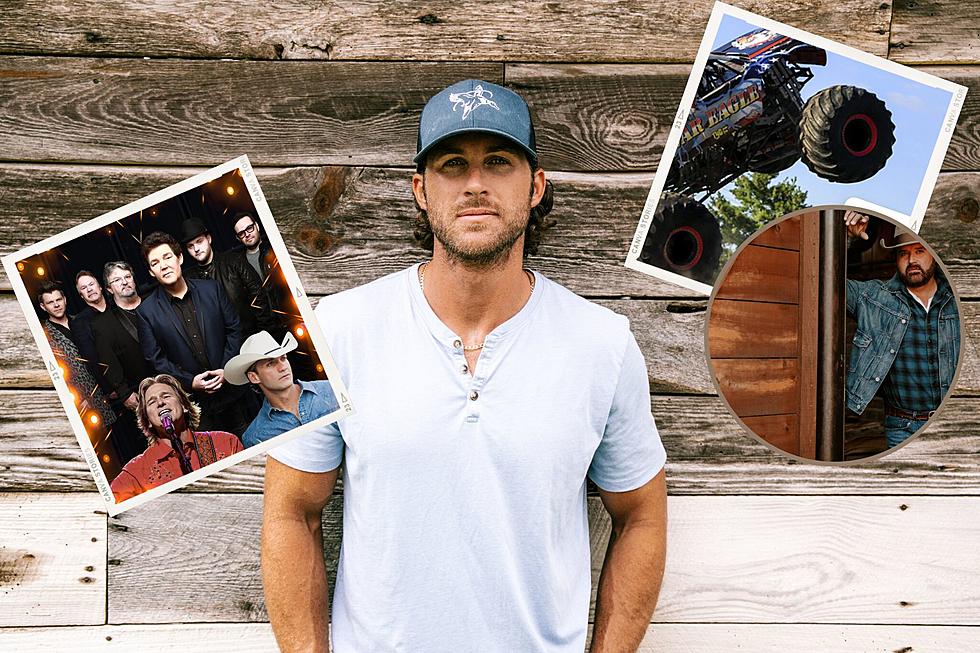 Missouri State Fair Announces Final 3 Grandstand Events
Missouri State Fair
The Missouri State Fair announced the final three Grandstand events for the 2023 fair.
The three new shows announced are:
Outlaw Nationals Monster Truck Show, Tuesday, August 15, 7:00 PM CDT, Tickets for Adults are $35, and for Kids 6-12 $15.
 The Country Comeback Tour with Shenandoah, Billy Dean, and Wade Hays, Thursday, August 17, 7:30 PM CDT, Track seats are $30, and Grandstand seats are $20.
Riley Green with Randy Houser, Saturday, August 19, 7:30 PM, Track seats are $50 and Grandstand seats are $45.
Additionally, an opener had been added to the Nelly show on Friday, August 18. That would be Rahzel, a member of the Roots, and three-time Grammy winner. Rahzel is the man with a thousand voices and sounds and is one of the greatest performers and innovative vocalists the world has ever known, this is according to the Missouri State Fair website.
Here's the complete grandstand lineup for the Missouri State Fair:
Thursday, August 10 - Tyler Hubbard of Florida Georgia Line with Parmalee
Friday, August 11 - Lainey Wilson with Jackson Dean
Saturday, August 12 - 3 Doors Down with Candlebox
Sunday, August 13 - Missouri State Fair Shoot Out and Tractor Pulls
Monday, August 14 - Pro Pulling League
Tuesday, August 15 - Outlaw Nationals Monster Truck Show
Wednesday, August 16 - Cory Asbury and CAIN
Thursday, August  17 - The Country Comeback Tour with Shenandoah, Billy Dean, and Wade Hayes.
Friday, August 18 - Nelly with Rahzel of the Roots
Saturday, August 19 - Riley Green and Randy Houser
Sunday, August 20 - 2023 Poweri 410 Spring Cars, B Modifieds, and Show Me Vintage Race Cars
Tickets for all Missouri State Fair shows go on sale at 9:00 AM CDT Tuesday, June 27 through ETIX. The Missouri State Fair box office will open at 12:00 PM CDT on Tuesday, June 27 for walk-up orders. Our radio stations will be offering a presale code sometime the week prior to the general on-sale date that will give you an opportunity to purchase tickets sooner. Keep listening and checking our website for more information.
Additionally, Rob & Mike will be broadcasting from our tents at the Missouri State Fair outside the grandstand most weekday afternoons from 2:00 PM - 6:00 PM. They will be joined by Behka and Randy on selected afternoons. Stop by, say hello, and see what goodies you can win from them.
Summer Shows Coming To Missouri That 80s & 90s Children Will Love
Here are the concerts coming to Missouri this summer that children of the 1980s and 1990s are going to want to see.
The Sad History Of This Long Abandoned Suburban St. Louis Mall
WARNING: Under no circumstances should you enter this property. By doing so you risk bodily harm and/or prosecution for trespassing on private property.
Jamestown Mall in Suburban St. Louis opened in 1973. By the time 2003 hit it was 30 percent vacant. As time marched on the anchors all left, and the mall finally closed its doors on July 1, 2014. After a fire gutted part of the abandoned mall in April of 2023, it will finally be demolished. A study by St. Louis County suggests it be redeveloped as an Ag-Food technology campus.