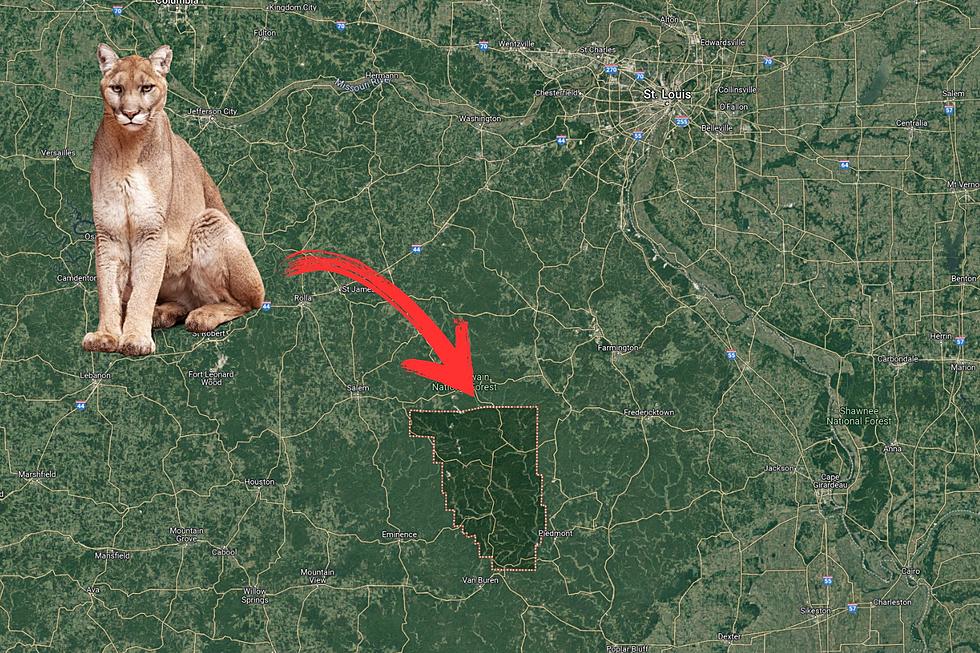 Mountain Lion Sighting in Reynolds County, Missouri Confirmed
Google Maps Satellite View/Canva
There seem to be an increasing number of sightings of mountain lions in Missouri and now there is yet another. This time the big kitty cat was spotted in Reynolds County, Missouri.
There are a lot of people who think they see mountain lions when it turns out that it was something else entirely. That's one reason why I wait for the Missouri Department of Conservation to confirm the sightings and that takes time. This new sighting in Reynolds County is a great example.
Here's the confirmation as shared by the Missouri Department of Conservation indicating that the mountain lion was spotted by a game camera. Afterward, they investigated and found other signs of the big cat in the area to determine the game cam picture was true. This is the 13th confirmed mountain lion sighting in Missouri in 2023 already.
If you're not familiar with Reynolds County, it's in the heart of the Mark Twain National Forest meaning there's lots of places for these reclusive cats to hide.
It wasn't that long ago that a mountain lion was spotted by a driver in Franklin County, Missouri.
I have to wonder if their population is expanding in Missouri as we've seen with black bears which now have natural habitats in the central and eastern parts of the state. It was a few months ago that some law enforcement authorities in northwestern Missouri feared that recent attacks on cattle might be due to mountain lion activity.
$11+ Million Dollar Wyoming Ranch Has Elk, Deer & Mountain Lions