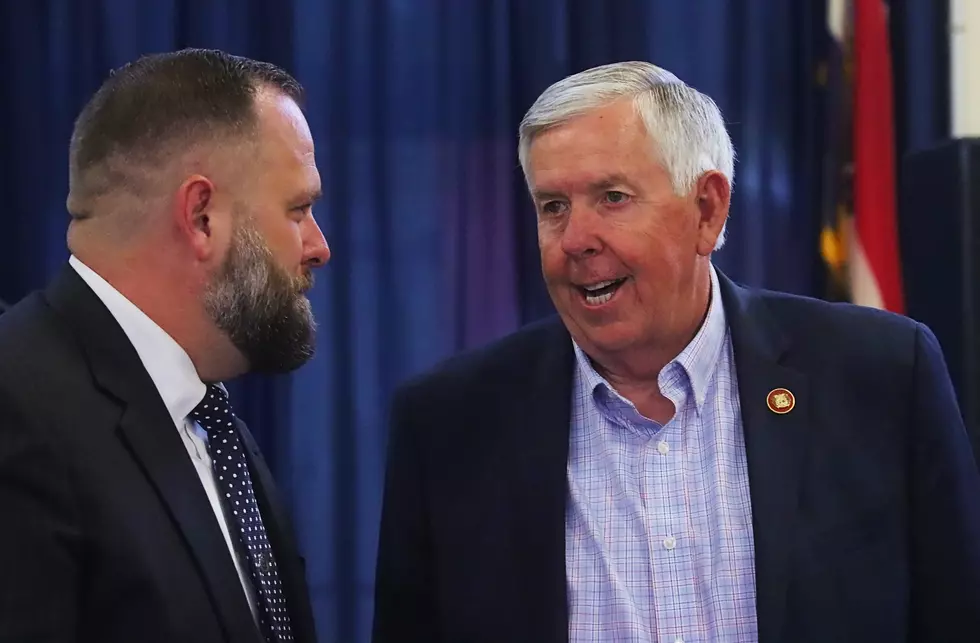 Parson Urges Voters to 'Do Their Research' on Candidates
Randy Kirby
Hundreds of Republicans attended the 121st McKinley Day "Freedom Rally" at the Ag Building on the Missouri State Fairgrounds Thursday evening.
The event included a dinner, a silent and live auction, and a chance for local and state political candidates to be seen and heard ahead of the August 2 Primary Election.
Pettis County Republican Chair Carla Young said that she expected close to 600 people to attend McKinley Day. "We were sold out as of this morning," she said. Last year's event drew 503 people to the Commercial building.
Young noted that McKinley Day has a special connection to this area, as a group of Pettis Countians marched in President McKinley's second inaugural parade, just days before McKinley was assassinated on Sept. 14, 1901 in Buffalo, New York. Vice President Theodore Roosevelt was sworn in as president immediately following McKinley's death.
"Every year thereafter, they began to celebrate his presidency, and we have continued on without missing a year, even through COVID," Young said.
Gov. Mike Parson arrived late to the event, but delivered the first of many political speeches of the night.
Parson  is term-limited and cannot seek re-election to a second full term in office. He touted two tax cuts he implemented while in office, and promised a third one, which drew applause from the crowd.
He urged fellow Republicans to stop their in-fighting. "We have to be on the same page, we can't be fighting against each other," Parson said.
Parson also noted that there were about 8,000 abortions in Missouri when he took office after the resignation of former Governor Eric Greitens. Then Conservatives took control. And last year there were only 47. "That's still too many," Parson told the crowd. "And there have been zero abortions so far this year now that Planned Parenthood is no longer funded. His statement was greeted with enthusiastic applause from those in attendance.
Parson's statement came one day before the US Supreme Court overturned Roe v. Wade.
Parson said he spoke with former President Trump a few months ago. "They love me in Missouri," Parson quoted Trump as saying. "I got more votes than he did, but I didn't tell him, though."
Parson went on to say how important elections are, from the school board to the White House. But he said, "do your research" and tell me why a candidate is qualified. Do they protect the Second Amendment?"
In her speech, US Rep. Vicky Hartzler said that "I have a bill to defund Planned Parenthood, and I pray that next week the Supreme Court will rule and will overturn Roe versus Wade, so we can finally acknowledge and support life again in this nation." Her statement was met with applause. "I ask that you send me to the Senate so I can keep fighting for you."
Mark McCloskey, who is running for the US Senate from Missouri, said "there is no time now for business as usual, there is no time now for politics as usual, there is no time now for politicians as usual, if we're going to save this country, if we're going to save our Constitution. We need to go up there to (DC) and do something entirely different."
K9s Rocky and Cav were on display along with their handlers on stage while Pettis County Sheriff Brad Anders narrated.
Dean Dohrman emceed the event.
The live auction was conducted by Johnson and Bay Auction Service, while the meal was catered by Vicki Meyer and Don Weaver. Deuces Wild was the DJ service for the event. Woodland Enterprises provided a cash bar. Richard DeFord sang the National Anthem, while Rep. Roger Reedy led the Pledge of Allegiance and Rep. Brad Pollitt provided the invocation.
In the top photo: Sedalia Mayor Andrew Dawson chats with Missouri Governor Mike Parson Thursday evening at the Ag Building on the Missouri State Fairgrounds during McKinley Day.