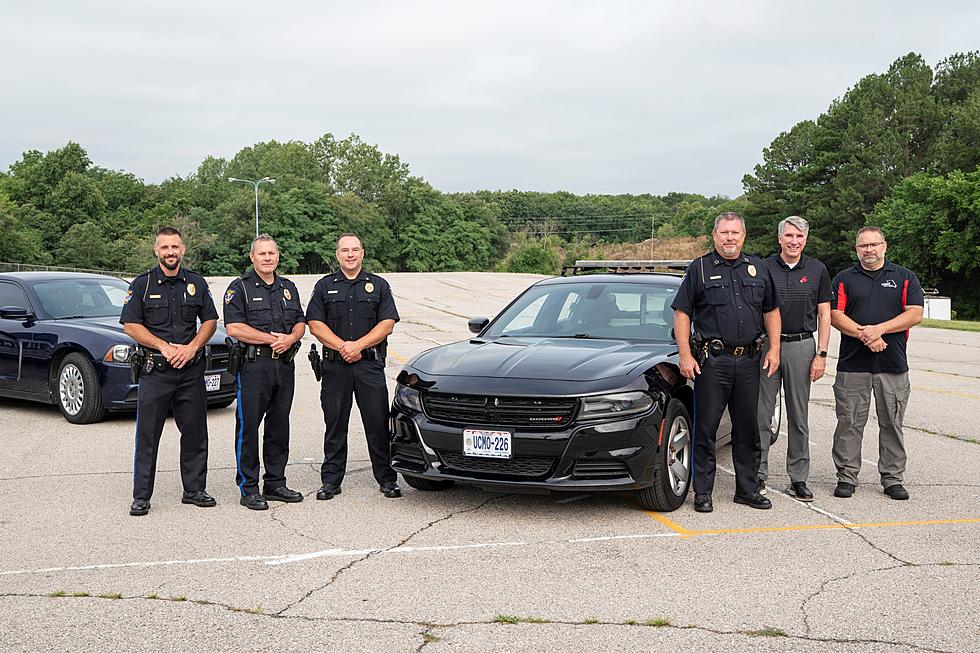 Sedalia PD Donates Vehicle to Missouri Safety Center at UCM
UCM
A collaboration that will enhance learning experiences for individuals seeking law enforcement careers, the Sedalia Police Department has donated a used patrol car to the Missouri Safety Center at the University of Central Missouri.
The formal presentation event took place on July 19, the same week a group of 27 Central Missouri Police Academy (CMPA) cadets began a training program that will allow them to utilize the car at the Safety Center's Highway Safety Instructional Park, south of UCM's main campus in Warrensburg.
Sedalia Police Chief Matt Wirt was joined by three SPD command staff members, Adam Hendricks, Josh Howell, and David Woolery, to deliver the 2017 Dodge Charger, equipped with siren and emergency lights. They were met by UCM President Roger Best, representatives of the Missouri Safety Center, UCM Harmon College of Business and Professional Studies and members of area law enforcement agencies that are sponsoring cadets in CMPA's 166th class.
Three of the class members, Tyler LaBoube, Lyndon North, and Jesse Page, are sponsored by the SPD. Other area police and sheriff's departments that attended the event and are sponsoring CMPA cadets represent Johnson, Lafayette, Morgan, and Pettis counties and the Warrensburg Police Department.
In talking about how the gift of this patrol car was made possible, Wirt said, "As we were transitioning from Dodge Chargers to Durangos, it gave us this opportunity. Members of the academy and the safety center indicated they needed more modern cars for their operation, so I went to the (Sedalia) city administrator and the mayor and asked if there was something we could donate that could help."
Sedalia municipal leaders were in favor of donating the former patrol car to the Missouri Safety Center, which oversees CMPA. Following approval by the Sedalia City Council, the vehicle now has a new home, helping to prepare individuals for law enforcement careers.
"The commitment to the work of the police academy and our law enforcement continuing training is essential for safety in the profession," said Joanne Kurt-Hilditch, Ph.D., senior director of the Missouri Safety Center." With newer technology and equipment, such as donated vehicles, our cadets and officers are able to practice in more real-life scenarios and become better equipped to being safe and effective on our roadways."
Tim Lowry, a career police officer who serves as director of CMPA, said the car will help create realistic scenarios for testing cadets' driving skills, including learning how to make traffic stops. The emergency lighting that comes with the donated vehicle enables its use for both daytime and nighttime training.
President Best had an opportunity to test drive the patrol car before joining Missouri Safety Center Senior Program Manager Mike Perkins to formally accept the vehicle. Both of them participated in photo sessions with cadets and law enforcement personnel from various other organizations attending the event.
Wirt, who has served the Sedalia Police Department for 24 years, said he was pleased to be able to give back to a program, which helped him prepare for his law enforcement career. After serving as a reserve officer in Sedalia, he attended the CMPA in the 1990s. His community's investment in his training paid off with Wirt continuing to work full time, eventually becoming Sedalia's police chief.
"It's nice to give back. I have a soft place for people who want to come into this profession," he said. "It's getting harder to find people, especially those who are really dedicated. So anything I can do to help them to enjoy this experience and to get a realistic training opportunity with a patrol car, it is great. It means a lot to me."
The Missouri Safety Center and the CMPA are part of the Harmon College of Business and Professional Studies. Between July and December 2023, members of the 166th class will receive 835 hours of training in the academy, which is licensed by the Missouri Department of Public Safety's Peace Officer Standards and Training Program.
To learn more about the Missouri Safety Center and the CMPA, visit mosafetycenter.com.
In the photo: Participants in the Sedalia Police Department's formal presentation of a 2017 Dodge Charger with emergency lights to the Missouri Safety Center at the University of Central Missouri included, from left, SPD officers Josh Howell, Adam Hendricks, David Woolery, Police Chief Matt Wirt UCM President Roger Best, and Missouri Safety Center Senior Program Manager Mike Perkins.