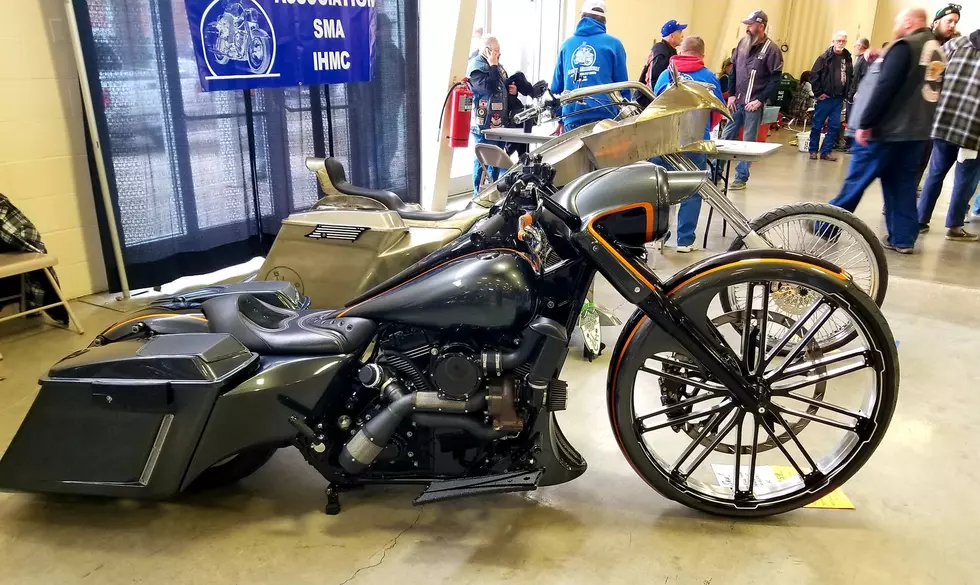 Show-Me Bike Show Draws 94 Entries
SMA
It was a record-setting kind of day on Feb. 4. The Sedalia Motorcycle Association's annual Show-Me Bike Show brought out a record number 94 motorcycles to be judged at the Ag Building on the Missouri State Fairgrounds.
There were also a record number 1,300 people that came through the front door to buy from vendors and to check out the gorgeous bikes.
"Thanks to our sponsors, judges, vendors and volunteers who help make this event a success," said show organizer Rick Yeager.
Results
Best of Show – Bob Hartline, Belleville, IL
Class 1 – Sportster – 1st Hellraiser's Fabrication, Belton, MO; 2nd Thomas White, Green Ridge, MO; Honorable Mention Mark & Stormey Allen, Sedalia, MO
Class 2 – American Cruiser Stock – 1st Clint Harper, Clinton, MO; 2nd Duane Baughman, Mora, MO; 3rd Justin Shelledy, Sedalia, MO
Class 3 – American Cruiser Mild Custom – 1st Woody, Fulton, MO; 2nd Cory Brewer, Mexico, MO; 3rd Hammer, Independence, MO
Class 4 – Sport Dresser Stock – 1st Wayne Winn, Lee's Summit, MO; 2nd Thomas Gage, Ionia, MO; 3rd Michael Payne, Otterville, MO; Honorable Mention Kevin Lawson, Sedalia, MO
Class 5 – Sport Dresser Mild Custom – 1st Sledge; 2nd Aaron Cagle, Jefferson City, MO
Class 6 – Dresser All Brands – 1st Bob Hartline, Belleville, IL
Class 7 – Radical Bagger – 1st Bob Borrin, Holden, MO; 2nd Hellraiser's Fabrication, Belton, MO
Class 8 – Custom Vintage – 1st Horse Arnold, Malta Bend, MO; 2nd Matt Carl, Berger, MO; 3rd Jerry Jones, Sedalia, MO; Honorable Mention Joshua Naylor, Pilot Grove, MO
Class 9 – Metric & European – 1st Dennis Stroud, Norborne, MO; 2nd Matt Carl, Berger, MO; 3rd Shannon McNulty, Berger, MO; Honorable Mention Chris Burgher, Sedalia, MO
Class 10 – Sport Bike – 1st Park Denny, Sedalia, MO
Class 11 – Chopper – 1st Buffalo Bob, Oak Grove, MO; 2nd Robert Allen, Florence, MO; 3rd Robert Maupin, Lexington, MO; 4th Hellraiser's Fabrication, Belton, MO; Honorable Mention Jimmy Wooton, Garden City, MO
Class 12 – Trike/Side Car – 1st Daniel Turpin, Eldon, MO; 2nd Dave Kehoe, Sedalia, MO
Class 13 – Vintage 1900-1985 (500 cc & Larger) – 1st Jack Cooper, Montrose, MO;
2nd LeAnna Lawson, Lebanon, MO
Class 14 – Vintage 1900-1990 (499 cc & Smaller) – 1st Lou Atkinson, Warrensburg, MO; 2nd Mark & Stormey Allen, Sedalia, MO; 3rd Rex Jeffress, Otterville, MO; Honorable Mention Lou Atkinson, Warrensburg, MO
Class 15 – Production Custom Harley CVO – 1st Sean Roberds, Independence, MO; 2nd Terry Fox, Warsaw, MO; 3rd Rex Jeffress, Otterville, MO
Class 16 – Special Construction – 1st Levi Christenberry, Sedalia, MO; 2nd Dedrae Fox, Warsaw, MO; 3rd Lou Atkinson, Warrensburg, MO
Class 17 – Rat – 1st Brandon Hutsell, Lincoln, MO
Class 18 – Off Road/Racer – 1st Rosie Verts, Sedalia, MO; 2nd Park Denny, Sedalia, MO
Class 19 – Electric – 1st Quinn Millsap, Sedalia, MO