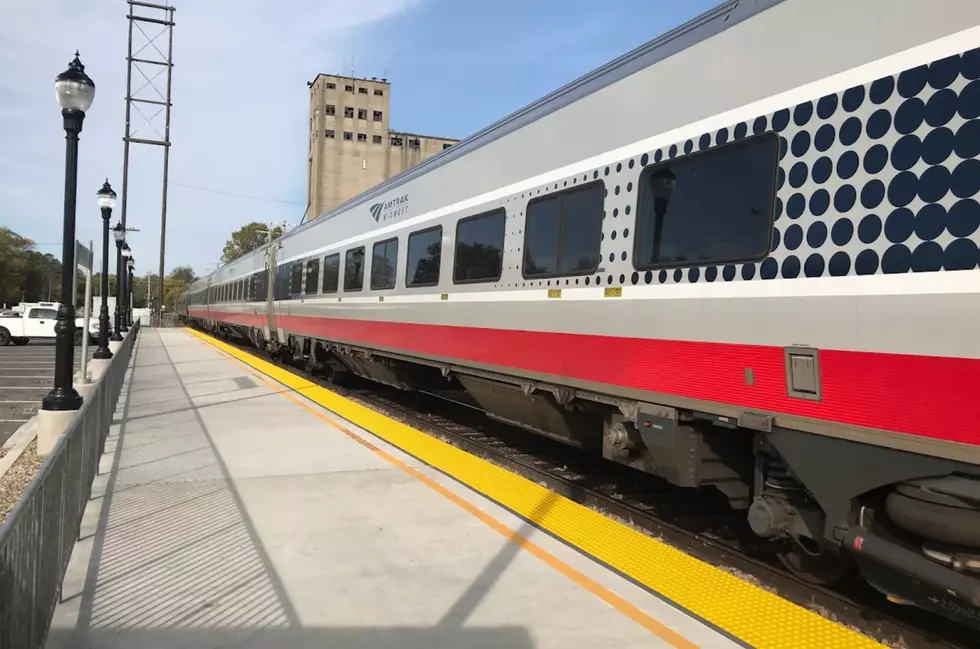 What It's Like Riding the Rails To Chicago from Missouri on Amtrak
Rob Creighton/Tonwsquare Media
Earlier this year Amtrak began a one-seat service on Amtrak's Missouri River Runner / Lincoln Service trains 318 and 319 between Kansas City and Chicago. I recently rode the train back and forth between Chicago and Warrensburg, and am here to share what it's like riding the rails to Chicago and back.
Trains 318 and 319 are Amtrak's service through Missouri and Illinois with stops in Lee's Summit, Jefferson City, St. Louis, Springfield, Bloomington-Normal, and Joliet to name a few of the bigger towns it stops in. It's also the train that stops in Sedalia, Warrensburg, and towns like Hermann, Kirkwood, Alton, and Dwight along the way.
Until very recently if you wanted to travel from Missouri to Chicago from west of St. Louis, you either had to ride the Missouri River Runner to St. Louis and then change trains to an Amtrak Lincoln Service train to Chicago. Or you could get yourself to Kansas City and take Amtrak's Los Angeles to Chicago train The Southwest Chief to Chicago.
If you're traveling from Kansas City, The Southwest Chief might be a slightly better option. It's a 7-hour and 22-minute trip that takes you through Missouri, Iowa, and Illinois before arriving in Chicago around 3:00 PM. Being one of Amtrak's long-distance trains it uses Amtrak's double-decker Superliner equipment and has a Sightseer Lounge Car and Dining Car aboard. Although be forewarned, dining car service is limited to those who purchase sleeping car accommodations, which aren't really necessary for a seven-hour trip.
For those, like me, who'd rather just hop on a train near their home in the Kansas City suburbs, or places like Sedalia, Warrensburg, or Jefferson City, then the combined Missouri River Runner / Lincoln Service trains are the way to go even though point to point service between Kansas City and Chicago clocks in at 11 hours and 45 minutes.
My journey from Warrensburg took 10 hours and 27 minutes to Chicago, and the return was 9 hours and 45 minutes to Warrensburg. The difference is the time spent dwelling in St. Louis for the crew change, more time is spent Chicago bound than Kansas City-bound.
It's A Long Trip All The Way to Chicago
There's no way to avoid it. Riding Amtrak's Missouri River Runner / Lincoln Service trains between Chicago and Kansas City, or station stops close to Kansas City is a long trip. Be forewarned, it's an ambitious undertaking, and some folks will do it once and probably swear never again after their first time.
Of course, the one-seat ride is offered as a convenience to those doing the long journey. The train's purpose really is to serve people going between Kansas City and St. Louis, or St. Louis and Chicago, or any of the intermediate stops in between those city pairs. You'll notice many more people making shorter journeys on the train vs. riding most of the route length.
I'm On Board What Can I Do Besides Sit Here?
A lot of what you do on the train is up to you. Since most people riding the Missouri River Runner / Lincoln Service trains are only riding for a few hours there isn't a full-service diner on the train or a lounge car where you can mingle with fellow passengers and enjoy a cocktail while watching the world go by outside the windows.
I listened to a lot of music, and a couple of podcasts. I also made sure I got a window seat so I could see the sights and take some pictures, and had a book with me. Others watched videos or movies on their phone, tablet, or laptop. One woman was working on a knitting project. Many folks spent some time eating either food they brought with them, or got something from the Cafe car.
While there are some segments of the trip where Amtrak's Wi-Fi service and my cell service weren't available, for the majority of the trip it wasn't very hard to get online, check Facebook, or stream audio or video. There really are parts of the trip where the scenery is worth watching too. I'll post some of the photos I shot in a gallery at the end of this article.
What's It Like On Board The Train?
The Missouri River Runner / Lincoln Service trains are all coach trains with an Am Cafe car which offers food and beverages for sale, along with business class seating. On my trip to Chicago, the train was made up mostly of Amtrak's new Venture Coaches, while on my way home the train was made up of a mixture of the new Venture Coaches mixed with their older Horizon Coaches.
The Venture Coaches have big windows with shades you can pull down to escape the afternoon sun. Wider aisles, and just have an airy feeling to them. Bathrooms in the Venture Coaches are in a vestibule separate from the seating area. The only complaint I have with Venture Coaches is the seats. They're probably fine for someone traveling three or four hours or less, but my behind was really achy after spending a full day in them.
The older Horizon Coaches have smaller windows without shades, are older, and have a less airy feeling to them. The bathrooms aren't separated from the seating area either. That's not a big deal unless you're sitting right by them.
I was thankful to find myself riding a Horizon Coach back to Chicago because I hated the seats in the Venture Coach. The Horizon Coach I was in had the seats replaced, but they still were much more comfortable and made for a more pleasant ride.
Legroom, especially if you don't put anything under the seat in front of you, and the width of the seats in both the Venture and Horizon Coaches are fine, even for trips lasting several hours or more.
The route is well traveled so both ways between St. Louis and Chicago I had a seatmate, as did most of the people on the train.
Can I Get A Meal or a Cocktail on the Train? Can I Bring My Own Food?
Amtrak's Missouri River Runner / Lincoln Service trains run with Amtrak's Am Cafe cars. These cars serve a variety of purposes. One-third of the car is business class seating. The center of the car is where you can purchase a snack or fast-food-type meal, get a drink, or a snack. Yes, they offer cocktails, wine, and beer too. The other third of the car is table seating, which depending on the crew, is sometimes made available for customers of the Cafe to sit and eat their food, as well as a table reserved for onboard crew members.
I spent $20 in the Cafe on my trip to Chicago. I got one of their combo deals for lunch. Two White Castle cheeseburgers, a bag of chips, and a Diet Coke. Later on, closer to dinner I got a DiGiorno cheese pizza some M&Ms, and a Diet Coke. That's a pretty good example of much of the food available on the train. Stuff that's frozen can be heated in a microwave, or convection oven, pre-packaged chips, and drinks.
You are allowed to bring your own food and non-alcoholic beverages on the train. I saw a few people who seemed to want healthier food do that. I myself, choose to bring a homemade turkey sub, a bag of chips, and a couple of cookies for the ride home.
Service hours in the Cafe are largely determined by the crew, which means when the Cafe opens or closes or how welcome you are to eat in the Cafe car is determined by who is serving in the Cafe.
For example, heading to Chicago, the Cafe didn't open until Jefferson City, closed after Kirkwood, and didn't reopen until after the train went through St. Louis and Alton. It closed for the trip after Joliet. It was also made clear to passengers that the service attendant didn't want passengers hanging out at the tables in the Cafe car.
On the ride back home, the Cafe opened after Joliet and I believe remained open for the trip's duration. Passengers were also invited to enjoy their Cafe purchases in the Cafe car, however, to please not monopolize a table for the duration of the trip.
The Cafe car is either at the front or the rear of the train.
Business Class Seating
Amtrak's Business Class seating on The Missouri River Runner / Lincoln Service is in part of the Cafe car. According to Amtrak, business class tickets are fully refundable before departure. Business Class also includes seating in a dedicated car. Complimentary non-alcoholic beverages, as well as bonus points for Amtrak Guest Rewards members.
So should you pop for business class? Perhaps it's worth the cash if you might have to cancel your trip last minute. Yet, if you don't travel Amtrak enough for their Guest Rewards program to matter, free soft drinks or water probably isn't worth the extra cash. Additionally, I haven't been on an Amtrak train in coach anytime in the last decade where I felt I'd get a significantly better experience with the upgrade. I considered it a couple of times while riding Amtrak's Wolverine through Michigan because Business Class seemed fairly empty, but that certainly wasn't the case on the Missouri River Runner / Lincoln Service trains I rode.
There is one instance that might make me pop the extra cash for Business Class. The seats. If it gets me out of sitting in an uncomfortable Venture Coach seat for ten hours. It might be worth the extra cash. That said, investing in a seat cushion might be just as effective.
Other Odds and Ends to Know Before You Ride
Amtrak doesn't offer checked baggage on The Missouri River Runner / Lincoln Service trains but there is plenty of room in the overhead luggage racks and some room at the ends of the coaches. A big piece of luggage is probably hard to carry onboard, however, larger duffle bags, backpacks, and the like are fine.
There are not a lot of places on the train to get up and stretch, and outside of the station stop in St. Louis, the train doesn't stop long enough to get off the train and get some fresh air and walk a little bit. Of course, no one's probably going to stop you if you get up and walk the length of the train a couple of times.
Seats are unreserved. This means it's first come first served seating. Boarding at Warrensburg I didn't have any problems getting a window seat, nor did I have a problem getting a window seat boarding in Chicago. Even in Chicago, I boarded a little later since I took a commuter train into Union Station, and it arrived after boarding had started. That said, depending on where in the train's journey you board the more likely you might not get to sit where you want or sit together if you're traveling as a couple or a group.
The earlier you book the less it might cost you. Amtrak, like many transportation companies, uses dynamic pricing. The later you book or the more in-demand seats are on your travel dates, the more expensive it can be. Also, between equipment and staffing shortages, at times the second Missouri River Runner train, the one that only runs between St. Louis and Kansas City, doesn't run which drives up demand on the one train that is running.
Would I Ride Again? 
Yes, with some reservations. I enjoyed not having to keep my eyes peeled on the road all day, and with gas prices as high as they are right now, I saved money by not driving. I like train travel yet surprisingly I found ten hours on a train a little more than I bargained for. The last hour or so was kind of difficult as I just wanted it to be done. Yet, that's not a deal breaker for me.
The seat on the Venture Coach, that's almost a deal breaker. I got off the train in Chicago telling myself never again. Yet, the ride back to Warrensburg in an older Horizon Coach with more comfortable seats softened my stance. My backup plan in case I got stuck in an uncomfortable seat since you really can't control what type of equipment Amtrak will use, was a butt cushion my Mom lent me. I didn't need it on the ride home, but I'd give that a shot before swearing off the train for good.
Finally, it's all about convenience. Does the train schedule work? How much driving will I be doing in Chicago, and does having my vehicle there make sense, or will borrowing a family member's car work just fine? Certainly, I'd ride Amtrak to Chicago again if it makes sense.
Look At What I Saw Out The Window Between Warrensburg and Chicago
I recently rode Amtrak's Missouri River Runner/Lincoln Service between Warrensburg and Chicago. Here's some of what I saw outside the window during the ride.
LOOK: Route 66's quirkiest and most wonderful attractions state by state
Stacker
compiled a list of 50 attractions--state by state--to see along the drive, drawing on information from historic sites, news stories,
Roadside America
, and the National Park Service. Keep reading to discover where travelers can get their kicks on Route 66.