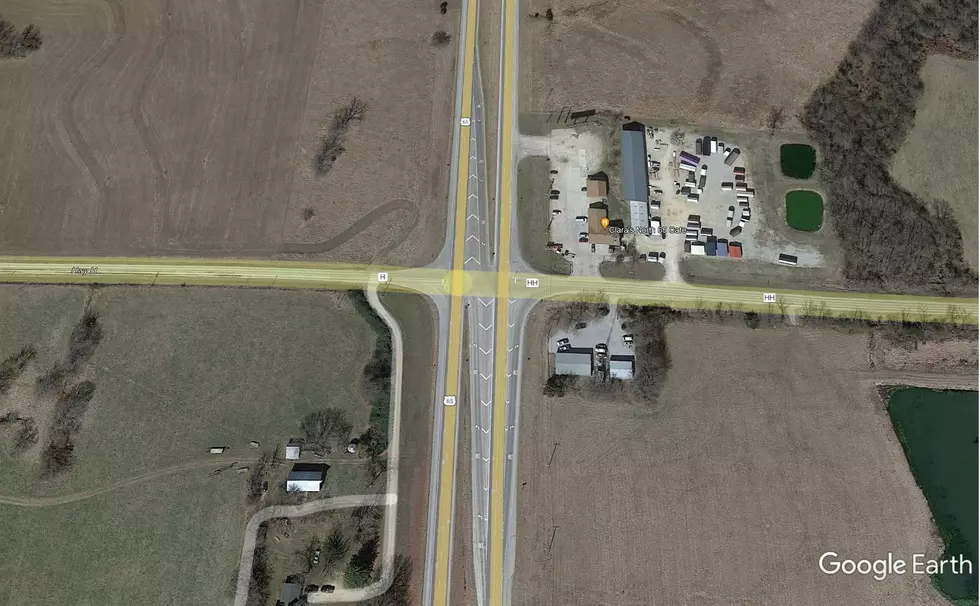 Three Injured After High-speed Pursuit Ends at 65 & HH
Google Earth
Three people were injured after a high-speed chase ended in a crash at Highway 65 and Route HH Monday morning in Pettis County.
According to a facebook post by Pettis County Sheriff Brad Anders, a Missouri State Highway Patrol Trooper notified Joint Communications that he initiated a vehicle pursuit westbound on HH at 11:02 a.m.
Pettis County Deputies attempted to deploy stop sticks near Tanglenook Road, but were unable to set up and deploy them in time.
A nearby Deputy followed the pursuit from Tanglenook as a secondary unit to assist the Trooper.
The suspect vehicle was a 2000 Ford F-150 driven by 21-year-old Logan J. Parker of Sedalia. Parker ran the stop light at 65 & HH and collided with a southbound Adair County ambulance that was transporting a patient around 11:14 a.m.
Upon impact, the ambulance, a 2021 Ford 550, traveled off the right side of the roadway, struck an embankment and rolled onto its side on the west side of 65.
The Parker truck traveled off the left side of the roadway and came to rest facing south. Parker, who was not wearing a seat belt at the time of the crash, was ejected from the vehicle upon impact.
Parker suffered serious injuries and was transported to University of Missouri Hospital by PACD.
34-year-old Seth T. Dimmitt of Kirksville and a 12-year-old boy from Downing were transported to Bothwell Regional Health Center with minor injuries.
The ambulance was driven by 46-year-old Robert L. Brock of Kirksville.
The ambulance had extensive damage, while the Parker vehicle was totaled, according to the MSHP.
Pettis County Deputies assisted the four Troopers on scene.
Parker was later arrested for 11 charges, including felony resisting arrest, second-degree assault (special victim), failure to affix motor vehicle plates, purchasing a motor vehicle without transferring certificate of ownership, no seat belt, speeding, failure to drive on the right half of the roadway, no insurance, failure to yield after stopping, failure to stop for a stop sign, failure to yield to an emergency vehicle sounding its siren and displaying red and blue flashing lights.